This is defintiely the age of our discontent, dear friends, and I feel it too, and I can also feel
the suffering and the struggles that are gripping people in their every day lives.
It does not matter what stage of spiritual awareness One is at, just being on Earth in a physical
body that is changing to accomodate a totally different energetic makeup is enough to cause
innumerable feelings, symptoms, confusion, and anger in varying degrees caused by our
rising frequency.
There is a struggle going on within the core of our being. It is caused by the complete change
of living circumstances, within. We can feel a move toward being more spiritual within ourselves,
but wait............there is still a physical world out there with responsibilities that need to be met in
a physical way. Then we remember the spirituality within ourselves and the ever changing
concepts and outlooks that are birthed within our consciousness each moment, or each day.
We are remembering.............but Hey! this is a totally different world so how do we be who we
want or deeply desire to be while integrating within this troubled society?
There is an underlying discontent that resurfaces within all of us at different times. It can cause
confusion within us, making us wonder "why do I feel so awful today when yesterday or last week
I reached deep peace within?" A roller-coaster ride of emotions............why do we reach a level
of 'knowing' then go back into feeling depressed, confused, full of headaches and body aches?
I can feel it too, and it is an internal struggle, a wanting to just get there.........and remain peaceful
and be looked after so that we don't have to worry anymore about..........................!
The spiritual within and the physical life we have made for ourselves are having a subtle war,
so to speak. The spiritual will ultimately win, but the pull towards the physical pleasures is
always there. We are moving towards a life where the pleasures in our life are permanent,
and not sourced from physical means. We won't need to go out and see a movie or indulge in
rich foods to feel happiness, as this is only temporary happiness and ceases as soon as the
enjoyment of the food is finished. That is what causes overeating and binge-eating.............
trying to bring happiness to our lives by the many flavours and 'uppers' of some favourite foods.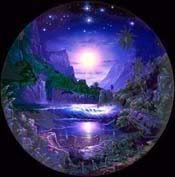 Being aware of the struggle between the physical and the spiritual way of life could make things
a little easier. Each time a higher vibration hits Earth, more anger and hostility and even more
crimes are committed. In my State of Qld. alone, the rise in crime and murders is unprecedented.
Seemingly normal and happy couples are being torn apart when one partner suddenly turns violent
and murders his or her partner. This is happening on a regular basis here now, and also the
number of violent crimes involving guns and random shootings. Children and babies have also
been victims more frequently now than ever. Some people cannot handle the higher vibrations
and the rage within surfaces to a deadly degree.
I have no advice for anyone on how to handle their individual inner struggles. I have been bamboozled
myself lately as to what this disturbing feeling within was, but this morning brings very clear insight.
It is personal responsibility for our own choices, and having this wonderful venue to air our feelings,
we can always ask for support. And don't forget, the Angels are always with you.
Love and Blessings to you All ~ let's all have a giant cyber-hug as we progress each day on our path
to total enlightenment, however long or short that takes!!
Tara Mary  ~  With Love