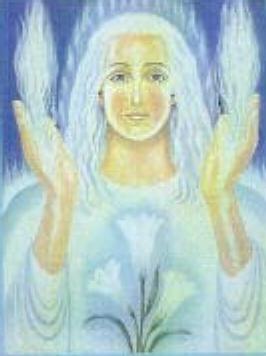 Day 18- June 9, 2013
Beloved Archangel Gabriel
Gabriel and Hope are the Archangel and Archeia of the White Ray of Purity, Hope and Discipline (fourth ray) and deliver a great radiation of the Resurrection and Ascension Flames. It was Gabriel who appeared to Mother Mary with the Divine Plan and vision of Perfection she was to carry during the life of Jesus. Gabriel is the Archangel of Joy and the Archangel of Communication. His name means "herald of good news." Gabriel comes to announce the birth of Christ within our heart and within the heart of every child aborning in the womb. Gabriel carries our Divine Blueprint and that of the new I AM Race template. He may be called upon to reveal the Akashic Record for our personal Divine Plan. We may call forth Gabriel and Hope's white fire rays of perfection to assist us in our continued purification, resurrection into our Higher Mental Body and becoming one with our great I AM Presence expression. They can be called upon to help us overcome all that would oppose that glorious event. They also expose the infamy of the fallen ones, purify our entire consciousness, being and world and bring hope to mankind. It was Archangel Gabriel who  came to Mohammed, to dictate to him what you understand today as the Koran. Together, they have a retreat over California, near Sacramento.
Beloved Archangel Gabriel's Gifts
Archangel Gabriel Miracle of Joy
Assistance in Communicating with Your I AM Presence
… And when you take your time to sit and focus your attention upon your Presence and then to us, if you will call upon the Great Central Sun's Sacred Fire Miracle Love to make you, to make yourself, a focus on Earth…. This is the idea, that when your life form on Earth shall be a Focus of the Great Central Sun's Sacred Fire Miracle Love, Miracle Purity, Miracle Power, Miracle Victory and Miracle Possession of everything within yourselves and your worlds, you open the door.
…So now, Dear Hearts, the time is yours. Such joy is to be upon you. And if you wish to experience the joy of an Archangel, then you call forth that Great Central Sun's Sacred Fire Miracle Joy of the Archangel Gabriel, inside your mind, inside your bodies, and inside your feelings. The numbers of individuals within this room -- if each of you… (TAPE CHANGE)
…form your nation Canada, to compel the governments of your land to change, and to compel the resurrection within the sleeping masses as a new desire to come forth within them, so that as they are ready, you are there to create the bridge for them.
...Now, Dear Hearts, now it is time to call upon the Mighty 'I Am' Presence that you have accepted for all your loved ones, for all that you interact with each day, and to those who seem to have a greater difficulty, to just call upon their Mighty 'I Am' Presence to come into their bodies and release the great Inner Splendour, release the Great Cosmic Light that is imprisoned within them, and let that great Cosmic Light take its toll within them and be the great Correcting Presence. You will find, Dear Heart, and I am sure the Messenger has found in his own life, you too shall find that you are no longer the corrector of anything, but rather to move into that state of consciousness, to move into that state of Love, that state of awareness, to move into your own 'I Am' Presence in which the correction can come about in which whatever is the appearance, Love is the only thing that you will give your attention to.
I see that in your feeling body that each of you could sit for fifteen minutes with all the wonderful Dispensations your Akasha has brought to you, and you would not have to pick up a book. You could sit there for fifteen minutes and do your calls, your attention fixed upon your Presence and the Ascended Masters, the great Angelic Host and ourselves from the Great Central Sun, and just call and call and call, all sorts of the many Activities that we have offered. And send your Love and give your Presence and us the authority and be with your Presence and us in calling for the Activities of the Cosmic Light and the Sacred Fire, with the command that you are to be one of those that Archangel Gabriel and the Ascended Masters require, a great Focus of the Great Central Sun's Sacred Fire Miracle Love, Purity, Power, Victory and Possession. Then, Dear Hearts, you will turn heads within months. If you will come to us in your fifteen minute durations, and just see what the Sacred Fire in you and what we can draw to you, when you give us that permission.
So I hope you will call and call and call, and I trust that you will, when you sit yourself with your Presence, and turn your attention to your Presence and to us, that you will say,
"I willingly let go of all human consciousness, concepts, authority, all human belief systems. I command myself absolutely empty of all human images, consciousness, authority, feelings and vibratory action in myself and my world. I command myself emptied of all of that, by the Great Central Sun's Mightiest Sacred Fire Miracle Love and Possession of my being now".
God bless you. I am Gabriel and I will be with you much more often than you dare yet believe to know. God bless you. I love the Passion of the Christ that is seeking its freedom. All you have to do when things are difficult is surrender everything that is not Love into the Sacred Fire of Christ within you and let it all melt away and allow your true Divine Self to come forth. We love you deeply, and in the name of the Ascended Jesus Christ I will always be with you, through your own Beloved Akasha and through your Beloved Asun who loves Master Jesus so much. I have so many open doors to assist each of you, and remember, I am the Great Communicator, and I can help each of you to communicate more effectively with your Presence and to receive the communications from your Presence.
In Love's Eternal Song, and in the Light of the Eternal Sunrise whose bounty is never to leave you again. I greet you, Gabriel.
Full PDF here:
http://www.akashaonline.com/downloads/pdf/Ascended_Masters/L_archan...
Invocation to Beloved Archangel Gabriel
Oh my Beloved God, Great I am Presence in All of Life, Great Powers of Light, Ascended Masters and Cosmic beings, strengthen all of Humanity this day and set them free from every limitation of every kind. See to it that all entities, incarnate or disincarnate, human or otherwise, who have sought to enslave or limit humanity in any way, see to it that they are seized and bound and removed from the earth at once and forever.
May all of humanity be set free this day and may that freedom be maintained, sustained and self-sustaining, so that each and every one may see and experience the fullness and completeness of their I Am Presence and Holy Spirit, and that their requests and calls to their I Am Presence may find immediate results and manifestation, and give them the dominion and freedom in their life that they deserve and desire.
Archangel Gabriel and Hope's Retreat
Archangel Gabriel and Hope are the archangels of purity and of the white ray of God. Their ancient retreat, located in California between Sacramento and Mount Shasta, has radiated the flame of purity in a concentrated action since before the sinking of Lemuria. Archangel Gabriel and Hope invite students to come to their retreat to learn how to hold the immaculate concept for each one's God-design and divine purpose, in the flame of hope. Gabriel also teaches students on strategies of light and darkness, and on how to connect with ascended beings by raising our human consciousness to the level of the Christ.
Call to attend Archangel Gabriel and Hope's Retreat
     In the name of the Christ, My Own Real Self, I call to the Heart of my Mighty I AM Presence, to the Angel of the Presence, Archangel Michael, Kuan Yin and the Maha Chohan, to take me to the etheric retreat of Beloved Gabriel and Hope over Northern California, according to the will of my Holy Christ Self and the direction of the Maha Chohan. I ask to be taught how to hold the immaculate concept and manifest purity, for the victory of the Mother Flame within my base of the spine chakra and the flame of hope within my heart, and for the working of miracles.   
  .
Again Blessings to Radiant Rose Academy for this information, calls, Lightbearers Worldwide for the pictures and information on the Retreats and finally the Rainbow Scribe for the Invocations.